Though the job sent me to Pittsburgh for some vendor training (and I was insanely busy with a big project) -- i was able to get out and about on the last night of the trip.
Now i've been to Pittsburgh twice in my life. This time, and back on the Roadtrip2002. And it doesnt cease to amaze me that on both times, i managed to get my ass lost. Its not like pittsburgh is an overly complicated town to drive through. Sure the city is technically on an island, and there's some unique hills/tunnels to contend with when driving about. But it's not like driving cross country or for that matter, through downtown dallas.
Oh well.
Anywhoo, after driving around for a few hour and ending up about an hour up the river, i found my way back to town and back to the top of the hill (or bluff or vista) overlooking the city. Still a hell of a view.
No idea what was going on at the stadium that night. . .
. . .a view of the entire city. . .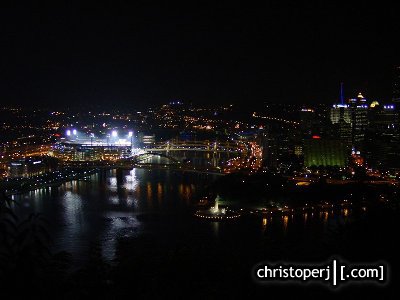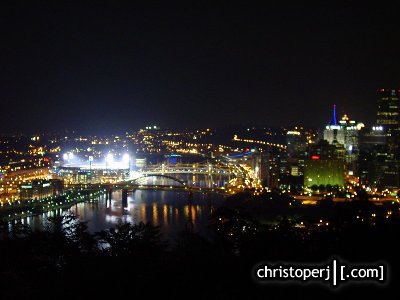 . . .just the lit up skyline of downtown.