At mile 147 of the Parks Highway, the State of Alaska has created Denali State Park. It's about 325 thousand acres and generally makes up the area south side of Mt McKinley and the Alaska Range of Denali National Park. I actually found this area to be far more scenic than the National Park side, but that probably has much to do with how the mountain range affects the local weather on the northern NPS side. . .
The Alaska Range from the Peters Hills across the Susitna River. . .
. . .closer look of Mt. McKinley and the clouds that get created when the winds are pushed up by the mountain peaks. . .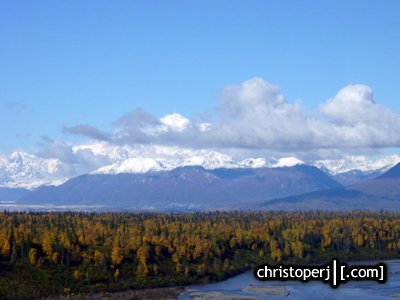 . . . other peaks in the Alaska Range across the river. . .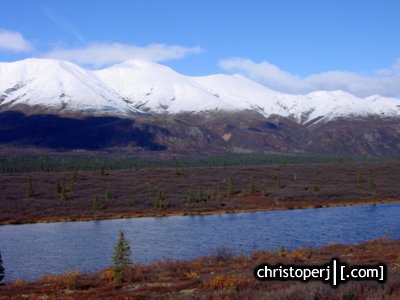 . . .closeup of the Birch trees on a hill over the park overlook. . .
. . .this marker speaks of how helicopters have come to the rescue of various hikers trying to climb Mt. McKinley over the years. . .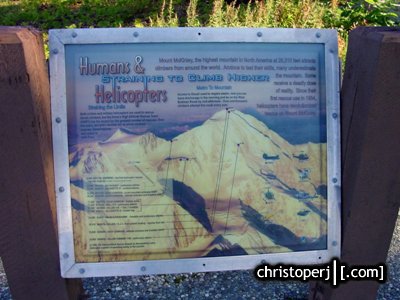 . . .a map and info about Denali State Park. . .
. . .a panoramic view and marker of the Alaska Mountain Range and Mt. McKinley. . .
. . .these two markers talk about how Denali means "The Great One" and how the area still calls the mountain "Denali", despite how the US Government renamed it for President McKinley back in the day. . .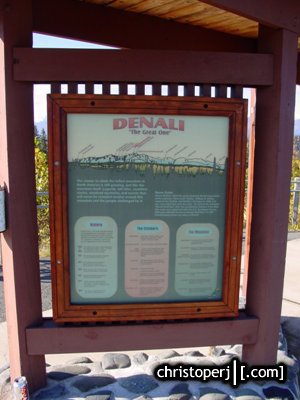 . . .this one shows how the Alaska Mountain Range and Mt. McKinley was created through plate techtonics. . .
. . .more markers about climbing the mountain range. . .
. . . this sign speaks of Dr. Cook, who in 1906 made a fradulant claim that he had climbed Mt. McKinley and tried to prove it with a fake picture taken at about elevation 5500, about 19 miles away from the 20,000+ feet summit. His claims were ultimately disproven in 1909. . .
. . .this sign depicts the length of time and effort necessary to get to both the area and the summit of Mt. McKinley and the Denali area. . .
. . .when there were no roads, and there really still arent that many -- the local rivers were/are used to ferry supplies and travel the Alaska Bush. This sign details that part of Alaska History. . .
. . .this sign shows Ruth Glacier and it's "Great Gorge". The gorge is about a mile wide and drops 2000 feet over 10 miles. On each side, 5,000 foot granite cliffs tower over. Measured from the top of the cliffs, to the bottom of the glacers -- its taller than the Grand Canyon.