On the backroads, i came across Kim's Horseback Riding (www.reindeerfarm.com) and checked it out. The horse given to me was named 'Nightmare' and had a stubborn personality similar to Scooter and Mocksee. The trail was short, and amounted to going up the hill and back down. Relaxing none the less -- and great way to end the trip, especially since i had been missing the horses back home. . .
One of my favorite photos of the trip when cropped for the site banners -- a photo of the back of Nightmare's head. . .
. . .not so good pics of me on top of the horse, Nightmare. . .
. . .with Bashful Peak in the background. . .
. . .with Mount Goode and the Knik Glacier in the distance. . .
. . .i was far more comfortable than this picture looks. . .
. . .a shot of Bashful Peak. . .
. . .the Chugach Mountains from the overlook. . .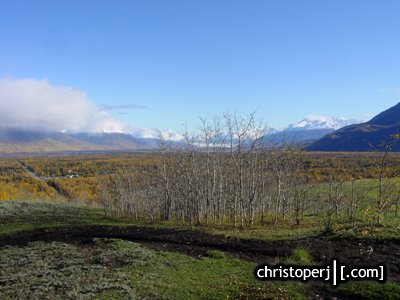 . . .spiffy shot that proves again the best views always seem to be from being at the highest point. . .
. . .they also had a Reindeer Farm at the stables. this was the first time i think ive ever seen one in real life. . .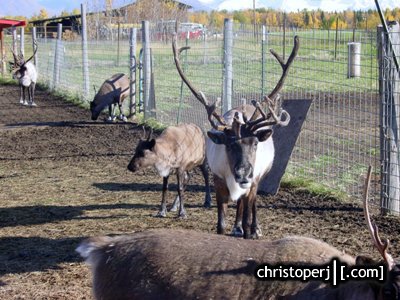 . . .the obligitory "Here's Where You're At:" sign. . .
script>